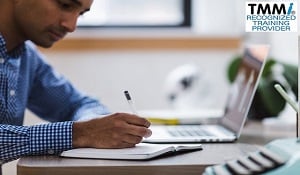 Course Overview
The Experimentus TMMi Assessor course is the only e-Learning course currently available that will enable you to gain the skills required to become an accredited TMMi assessor. e-Learning means you can complete the course as and when you please and at your own pace - no need to use precious time away from work. We complement this with access to some of the most experienced TMMi lead assessors in the world while you are completing the course.
Our TMMi Assessor e-Learning course is designed to build on the skills you will have acquired in the TMMi Professional course, by preparing students who want to gain the knowledge and practical skills required to become a TMMi assessor. Students will be provided with:
Training on how to undertake TMMi assessments using the accredited Experimentus method, from planning through to delivery of the final report

Training on how to use the Experimentus TMMI assessment tool. The tool is provided to all students for the duration of the course.

Knowledge of how to analyse and present back the results to your organisation or sponsor.
The course is a mixture of lecture materials, practical exercises and discussions with an experienced accredited TMMi lead assessor to help prepare delegates to deliver TMMi assessments with confidence.

No separate exam is required to become an assessor after obtaining the TMMi Professional Certificate. We will provide a certificate of completion of the course and a grading form to students who may then apply to the TMMi Foundation to become an accredited assessor or certified process improver.
Course Objectives
The objectives of this course are to provide an understanding and practical training of how to run TMMi assessments and the analysis process through:
An overview of TMMi as a refresher from the TMMi Professional course

Introduction to the appropriate TMMi Foundation documentation

Training on the Experimentus TMMi Assessment tool

The setting up of assessments, including preparation and planning

How to run assessments

Review and assessment of artefacts

Gathering evidence

Final scoring and reporting back to your organisation or sponsor

Preparation of assessment documentation required by the TMMi Foundation
Benefits of the Course
You will be shown the theory of what is required to be a TMMi assessor and lead assessor

Tips are given for conducting assessment interviews, analysing and interpreting the results

Attending the course and successfully completing the exercises is one of the prerequisites to applying to the TMMi Foundation for accreditation as a TMMi assessor or certification as a TMMi process improver.
Suggested Attendees
Anyone who will engage with customers to deliver TMMi assessments (either formal or informal) including:
Programme / Project Test Managers

Test Leads

Test Analysts

Test Consultants

Aspiring TMMi Assessors
For more information call us on: +44(0)207 871 2300, email: info@experimentus.com or complete the form at the top right of the page.